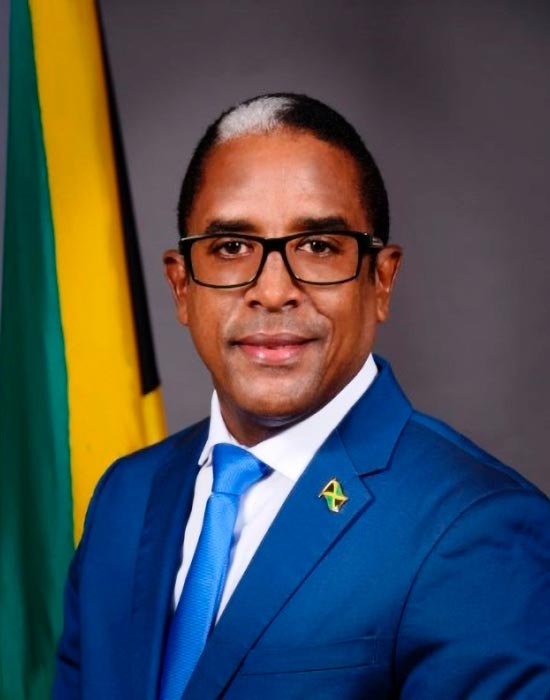 Hon. Dr Norman Dunn
State Minister, Ministry of Industry, Investment and Commerce
Dr. Norman Alexander Dunn is a Pharmacist with over 30 years of experience. He is a successful businessman and owner of eight retail pharmacies in Jamaica. This feat makes him the operator of the largest number of private pharmacies in the island. In 2014, his chain of pharmacies, Supermed Group, was nominated and received third runner up for the National Commercial Bank's Nation Builder awards. The Business has received numerous awards through Caribbean Association of Pharmacy.
He has also received the UTECH/CIPPAR Alumin Award for entrepreneurship.
His success as a businessman has allowed him to be featured by both the local television programme Profile on Television Jamaica and NCB Business magazine. Dr. Dunn has presented at numerous local and regional conferences on topics such as pharmacoeconomics and advancing the business of pharmacy. His recent venture was representational politics as the Jamaica Labour Party Caretaker for Southeast St. Mary. His current professional affiliations are:
Minister of State in the Ministry of Industry, Investment and Commerce. (Sept 2020 – present)
Representative for South East St. Mary (October 2017 – present)
Justice of the Peace for the Parish of St Andrew, Jamaica.
Throughout his career he has served the profession of pharmacy and by extension his country as: • Director of Indies Pharma Jamaica Ltd (December 3, 2019 – October 2, 2020)
First Vice-President of the Caribbean Association of Pharmacy
Founding Vice-president of the Jamaica Association of Pharmacy Owners (JAPO)
Past President of the Pharmaceutical Society of Jamaica
Past Board member of Health Corporation of Jamaica
Past member of the Institutional Benefit Committee, National Health Fund
Past member of the Jamaica Defense Force (National Reserve)
Past Deputy chairman, Pembroke High School Board
Past Chairman of the Pharmacy Council of Jamaica
Past Vice Chairman of South East Regional Health Authority
Past Board member of the Pharmaceutical Society of Jamaica
Dr. Dunn received his first professional accreditation with a Diploma in Pharmacy (Honours) from the former College of Arts Science and Technology (CAST). He then pursued and achieved the Bachelor of Science degree in Management, Accounts and Economics and the Master of Science in International Business – both from the University of the West Indies, Jamaica. An ardent scholar, he returned to school and obtained both the Bachelors of Pharmacy and the Doctor of Pharmacy degrees from the University of Technology, Jamaica.
Dr. Dunn's unwavering commitment to community and nation building was recognized with the conferral of the Badge of Honour for Meritorious service in 2013 from the Government of Jamaica. Dr. Dunn is no stranger to community service and is passionate about making a difference; in December 2016 he was awarded by the St. Andrew Justices of the Peace and Lay Magistrates' Association for his outstanding contribution as a JP to the Parish of St. Andrew.
Educational Background
Dr. Dunn's solid educational background includes the following: • Doctor of Pharmacy (PharmD), University of Technology, Jamaica (2013) • Bachelors of Pharmacy, University of Technology, Jamaica (2009) • Master of Science in International Business (University of the West Indies, Mona) (2000) • Bachelor of Science (Hons.) Management, Economic and Accounts (University of the West Indies, Mona) (1997) • Diploma, Pharmacy, College of Arts Science and Technology, Jamaica (1983-1987) • Dinthill Technical High School (1978-1982) Work
Experiences
Minister of State in the Ministry of Industry, Investment and Commerce. (Sept 2020 – present)
Houses of Parliament, Member of Parliament (2017 – Present)
Noraldu Limited, Managing Director (1994 – Present)
Medpro Jamaica Limited, Managing Director (1992-Present)
Facey Commodity Company Ltd, Pharmacist Med Rep (1990-1992)
Pfizer, Pharmacist Med Rep (1990-1992)
Caripharm, Med Rep (1988-1990)
Awards
Badge of honor for meritorious service (2013), Government of Jamaica
Entrepreneurship, and Star awards (2012), Caribbean Association of Pharmacists (CAP)
Entrepreneur of the year, CIPPAR Alumni (2012), The University of Technology of Jamaica (UTECH)
Caribbean Pharmacy SIGMA award (2013) for Supermed Pharmacy
Third Runner up, Nation Builder Awards (2014), National Commercial Bank, Jamaica
St. Andrew Justices of the Peace and Lay Magistrates' Association Awards ((2016) for outstanding contribution as a JP to the Parish of St. Andrew.
UPA Peer Awards, CIPPAR Alumni (2017), The University of Technology of Jamaica (UTECH)
Jamaica Pharmacist Image Maker Awards Alumni (2017) The University of Technology of Jamaica (UTECH)
Citation received from the Pharmacy Council of Jamaica at the recently held Pharmaceutical Society of Jamaica Convention in Montego Bay, (June 2018)