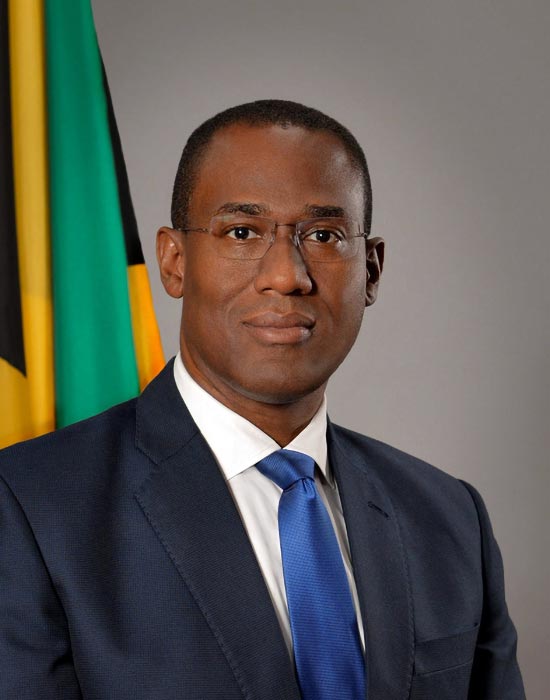 Dr. the Hon. Nigel Clarke
Minister, Ministry of Finance and the Public Service
The Hon. Nigel Clarke, DPhil., MP, is Jamaica's Minister of Finance and the Public Service and is Member of Parliament for St Andrew Northwestern.
He has served as Ambassador of Economic Affairs where he represented Jamaica's interests with multilateral institutions and as a Senator in the Upper House of the Jamaican Parliament between 2013 and 2015.
Minister Clarke's public sector career includes service, over various periods, as Chairman of the National Housing Trust, Chairman of the Port Authority of Jamaica, Chairman of the HEART Trust and Director of the Bank of Jamaica.
Minister Clarke served as Vice Chairman of the Musson Group where, over 15 years, he played an integral executive leadership role in the expansion of the group from a base in Jamaica to having subsidiaries in over 30 countries.
In his private sector career, Dr. Clarke is recognized for having led, managed or executed dozens of acquisitions and corporate transactions, primarily in the Caribbean and Central America but also in Europe and the Pacific, and for his expertise in structuring and negotiating large scale in-bound equity and debt investments from major global institutions.
Dr. Clarke has been Chairman, Vice Chairman or director of many companies listed on the Jamaica Stock Exchange and his private sector experience spans broad areas of the economy including manufacturing, distribution, consumer goods, telecom services, agriculture, food processing, banking, insurance, property development among other areas.
Minister Clarke has also been an active social entrepreneur where he is the founding Chairman of the National Youth Orchestra of Jamaica, an NGO that operates music for social change programs at eight centres in Kingston and Spanish Town.
Minister Clarke is a recipient of the PSOJ's "50 Under 50 Business Leader Award" as well as the Kiwanis Community Service Award.